Message from Founder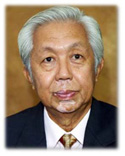 I established PT. Guna Senaputra Sejahtera in 1996 with 3 principles value :
1. To have high standard quality while making reliable products
2. To meet our customers need by constant innovation and continuous improvements
3. To grasp advanced technology while developing human's value
I am confident that supporting industry in Indonesia has high potential growth; however competition is becoming more and more severe. We have entered an era in which companies that do not have the flexibility to respond precisely to multitude of changes will not survive.
Therefore, in securing our company, we have equipped our employees to have a commitment in the best quality and delivery performance, cost competitive, be persistent in technology development to increase effectiveness and efficiency, and continuously develop morale quality of human resource through trainings and educations.
Excellent in manufacturing and excellent in servicing are the fundamental of having global quality level and price competitiveness. I am committed to steadily improving our company's value and building a solid management programs.